At Hotwyr Kennels we take a keen interest in what our extended family is doing. We love nothing better than to see our dogs in their new homes, being loved and cared for by their new families. Our puppies are in many different homes doing many different things; hunting, spending time on the beach, roaming around on acreage or playing in dog friendly parks.
So whats our latest litter (Fab Five) been getting up to.....take a look and you will see what Podge, Heartman, Mini Me, Bertha and Dotty are all up to.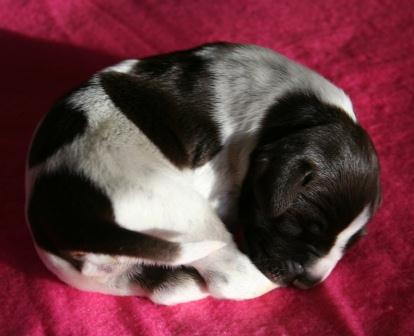 Our nickname: Podge
Now Called: Chewie
Our Fondest Memory: His love of food.
The largest of all the Fab Five we soon learnt that Podge's had two loves, food and eating it.
Podge now lives with a Emma and Brendan in Inner Sydney, he is now called Chewie (they are huge Star Wars Fans). Brendan has plans to train Chewie to be a sled dog when he is old enough. He now spends his day keeping the lounge warm for Brendan and Emma!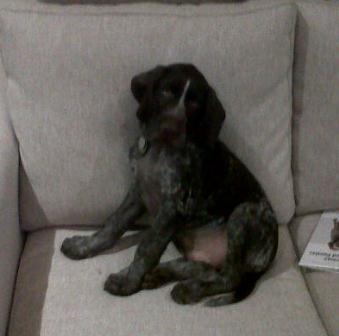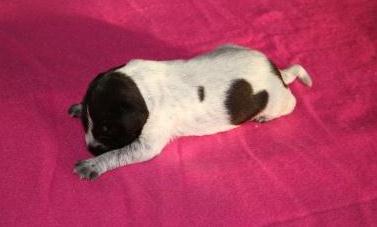 Our Nickname: Heartman
Now Called: Theo
Fondest Memory: How he could talk at mealtime
The moment we saw him we knew from the big heart patch on his side he would be called Heartman.
Theo now lives in Hobart with Klaus, Helen and Izzy, who have trained him to understand both
German and English (such a smart boy). When not learning German, Theo can be found helping Helen and Izzy study by the fire.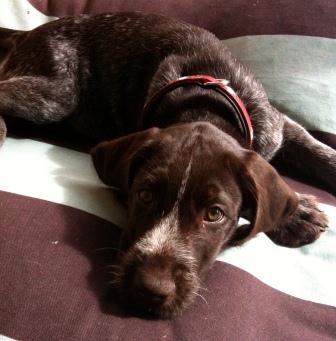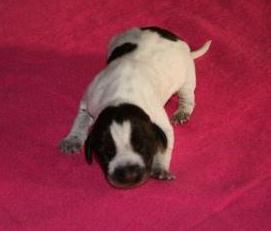 Our Nickname: Mini Me
Now called: Milli
Fondest Memory: First to do everything!
This was our littlest girl who had the biggest heart. Mini was so named due her mothers likeness. She was the litter "Trail Blazer" first to open her eyes, first to stand-up and first to eat from bowl.
Milli now lives on the NSW South Coast with Fiona, Glenn, Henry, Sopie Bart and Hugh. Her time is divided between the beach, lazing in front of the fire or attending a swimming carnival (which I am sure is another first).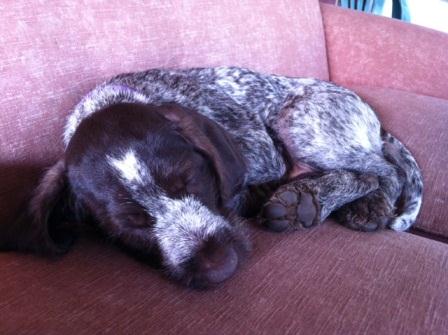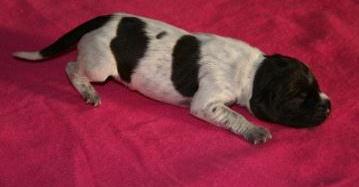 Our Nickname: Bertha
Now Called: Pepper
Fondest Memory: Her exploring ability
The largest girl in the litter so we just had to call her Bertha as in "Big Bertha". This little girl should have been called "Dora the Explorer". Whether it be exploring outside the whelping box in the early days or exploring the acreage, she loved to explore.
Now called Pepper, we know Pepper will love her new home with Kathy and Phil in Northern NSW she has already been exploring with Kathy while shoting and found herself a Wood Duck.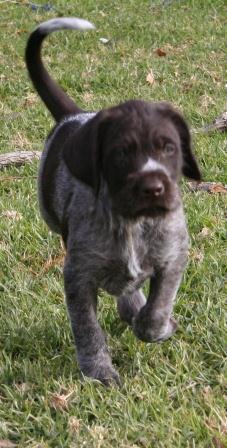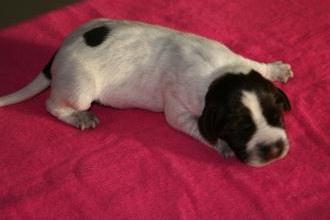 Our Nickname: One Spot Dot aka Dotty
Now Called: Monroe
Fondest Memory: Oh how she could scream!
We didnt even have to discuss Dots name, when we saw her we said "look shes only got one spot!" . Oh how she could scream, scream for her dinner, scream to be picked up, scream when she was out in the yard for the first time. I used to pity who would end up with Dot (the screamer). It ended up being us! Thankfully shes stopped screaming, phew!
Dot is now Monroe - the name comes from her Pedigree name Hotwyr No Bizniz Like Show Bizniz, based on the movie which starred the "other" famous Monroe. Marilyn Monroe was the theme for our litter based on Piper's Pedigree name "Korskote Some LIke it Hot". Monroe will soon hit the show ring. In the meantime she has commenced puppy pre-school and loves getting out and about.